Buddhist Circuit Tour Package
Day 1 :  Arrive Varanasi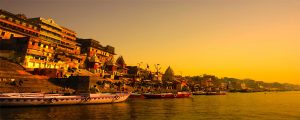 Today Morning On arrival at Varanasi you will be picked up and transferred to Hotel, after some rest we will go for sightseeing tour visiting Bharat Mata Temple, the Durga Temple which is more commonly known as the Monkey Temple, Emperor Aurangzeb's Mosque, the sacred bull, the Well of Knowledge, the Vishwanath Temple, and Benares Hindu University. The Vishwanath or 'Golden Temple' was built in 1776, and is the most sacred temple in Varanasi, being dedicated to Vishveswara – Shiva as Lord of the Universe. Not far from this temple is the Benares Hindu University – a centre for education in Indian art, music, culture, philosophy, and for the study of Sanskrit. Overnight stay at Hotel.

Day 2: Varanasi Stay and Sarnath Excursion.
Today Early Morning Boat Ride in Ganga River, then back to Hotel for breakfast after that we will go for Excursion tour of Sarnath. the site of the deer park where Gautama Buddha is said to have given his first sermon about the basic principles of Buddhism. It has been a premier centre for Buddhism & has a rich collection of ancient Buddhist relics & antiques comprising numerous Buddha & Bodhisattva images on display at the Archaeological Museum. Sightseeing at sarnath covers the Buddhist temple, Dhamekha Stupa, Chaukhandi Stupa and the archaelogical museum. Evening Arati.  Over Night Stay at Varanasi .

Day 3 : Varanasi - Bodhgaya
Early morning before breakfast at 0500 hrs boat ride on the river Ganges. We rise before dawn and step gingerly in the boat as the boatman starts rowing the boat. We wait for the daily miracle to unfold, as the Sun appears triumphantly over the horizon. The sound of conches and temple bells add to the delicate pink fabric of dawn. The formerly hushed murmuring of ancient Sanskrit 'Shlokas' now rises, in one voice, to a crescendo of unparalleled piety and joy. We return to our hotel for breakfast.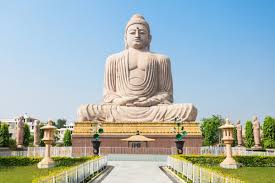 Buddha attained enlightenment at the age of 29 in the town of Bodhgaya in India. After settling under a tree, Buddha resolved not to move until he had achieved enlightenment. After three days and nights of profound meditation this goal was realised. The Bodhi tree under which the Buddha sat, is visible today as well. Later visit Mahabodhi Temple, Niranjana River and Sujata Village. Over night stay at Bodhgaya.
Day 4 : Bodhgaya / Rajgiri / Nalanda /  Patna (205 kms)
After early breakfast drive to Patna en-route sightseeing of Rajgir & Nalanda.
Rajgir: Rajgir is another place in the Ganges Valley where the Buddha walked and preached. Perhaps the most important event of the Buddha's visits to Rajgir was the conversion of two future disciples, Sariputra and Maudgalyayana. While Sariputra was credited with greater intelligence, Maudgalyayana wielded a greater power for miracles.
Nalanda: Nalanda is important both because it was blessed with the presence of Buddha, and because of the famous monastic university developed there. This university, named Nalanda (meaning 'insatiable in giving') played a central role in the development of Buddhism in India. Over night stay at hotel in Patna
Day 5 : Patna- Vaishali- Kushinagar (285 kms)
After early breakfast drive to Kushinagar en-route visiting Vaishali.
Vaishali: On the left bank of the Gandak river, is spiritually supreme Vaishali town. Lord Buddha visited this place frequently and at Kolhua, close by, preached his last sermon. To commemorate the event, Emperor Ashoka, in the third century B.C. erected one of his famous Lion Pillars here. A hundred years after the Mahaparinirvana of the Buddha, Vaishali hosted the second great Buddhist council. Two stupas were erected to commemorate this event. Next we drive to Kushinagar.
Kushinagar: One of the most sacred sites for the Buddhists. It was here that Lord Buddha is said to have attained 'Mahaparnirvana', the freedom from the endless cycle of birth and rebirth. Overnight stay at hotel in Kushinagar.
Day 6 : Kushinagar- Lumbini (165 km/ 4 hrs)
Morning post breakfast we will visit Nirvana Stupa, Nirvana temple, Mathakuar Shrine and Ramabhar Stupa. Later we drive to Lumbini.


Lumbini (Nepal): Lumbini is one of the most important places of Buddhist pilgrimages, located near the Nepal-India border. This is where Gautam Buddha was born in a Royal family in 556 B.C. Many auspicious signs accompanied the Buddha's birth, including the sprouting of Bodhi tree. The great Buddhist ruler Ashoka visited the site two centuries later, constructing a Stupa (mound, usually of earth) and Pillar in recognition. Although largely destroyed now, these remain important marks of the Buddha's birthplace.Upon arrival at Lumbini check-in to our hotel for Overnight stay at hotel in Lumbini.
Day 7 : Lumbini- Sravasti (205 km/ 6 hrs)
After breakfast we visit Lumbini Garden, The Ashok Pillar, Pushkarni - The Sacred Pool, Sanctum Sanctorum of the Lord Buddha's birthplace and the Buddhist temple. Later we drive to Sravasti. 
Sravasti is intimately associated with the life of Buddha. In Buddhist times (6th century BC-6th century AD), Sravasti was the capital of the Kingdom of Kosala and was important both as a prosperous trading centre and for its religious associations. Buddha is believed to have spent 24 monsoons in the city. It is said that Buddha sat on a Lotus with a thousand petals and multiplied his image a million times. A divine sight that silenced his critics. Upon arrival assistance and check-in the hotel for overnight stay.
DAY 8 : Sravasti- Lucknow ( 151 Km / 4 Hrs)
Morning post breakfast we will visit Shobha Nath Temple, Maheth and Saheth. Later in the afternoon we leave for Varanasi ,
Overnight stay at hotel in Varanasi.
Day 9 : Lucknow - Agra ( 360 Km/ 9 Hrs )
Today after breakfast we will drive to Agra.  Over night in Agra.
Day 10 : Agra
Agra, erstwhile capital of great Mughals & known for Taj Mahal. It has always fascinated Indians & foreigners alike. Most of Agra is on West bank of river Yamuna, with the Agra Fort & Taj Mahal at its nucleus. Taj Mahal is quite simply one of mankind's most remarkable creations.
Visit of  the incredible architectural excellence of Taj Mahal (Closed on Friday), built by Emperor Shah Jahan in memory of his beloved wife Mumtaz Mahal, Next we visit Agra Fort, built principally as a military establishment by Akbar in 1565. The red sandstone Agra Fort was partially converted into a palace during Shah Jahan's time. This massive Fort is 2.5 km long & is considered as the predecessor of the Delhi Red Fort. Later in the afternoon we visit Itmad-ud-Daulah Tomb, built by Noor Jahan, wife of Mughal Emperor Jahangir, in memory of her father Mirza Ghiyas Beg. Before Taj Mahal was built, its rough design was already standing in the form of Itmad ud Daulah's Tomb. Next we visit Sikandara, Akbar's tomb. Overnight at Hotel in Agra
Day 11 : Agra to Delhi
Morning after Breakfast we will drive to Delhi. Latter we visit Indira Gandhi Memorial. Further we drive past India Gate, memorial built in the year 1931 to commemorate the Indian soldiers who died in the World War I & the Afghan Wars. We will also visit Humayun's Tomb, memorial of Mughal Emperor Humayun, built in the year 1562. Further we visit Qutub Minar, built in the year 1206 by Qutub-ud-din Aibek. It is the tallest (72m) brick minaret in the world, an important example of Indo-Islamic Architecture. Overnight Hotel - Delhi
Day 12 : Depart Delhi
Today after breakfast we will drive to Airport to catch Flight for onward destination.